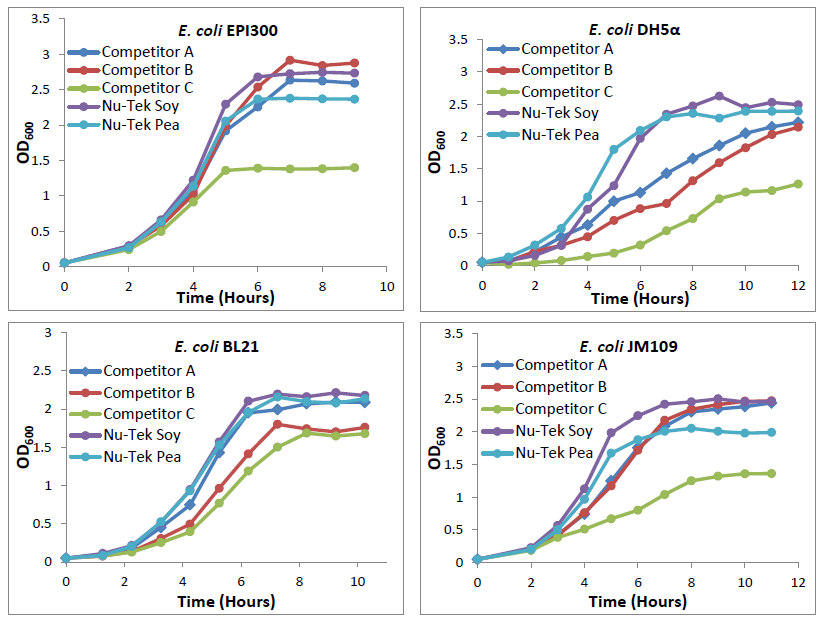 Allergan and Animal free Peptones for the use in culture media
Minnetonka, MN, 2016-Nov-14 — /EPR Biotech News/ — Today at Nu-Tek Bioscience announced the completion of an outside study comparing various protein sources on the enhancement of Cell growth using E. Coli. The study was completed by The University of St. Thomas.
Nu-Tek HSP (Hydrolyzed Soy Protein) and HPP (Hydrolyzed Pea Protein) peptones showed the least strain dependent variability in growth performance. In contrast to competitor peptones showed poorer performance. This has been an ongoing issue with media developers to minimize the variation from lot to lot in Peptones. Nu-Tek Bioscience has developed a technology that promotes reduction in variability.
Blending HPP (Nu-Tek's Bioscience Hydrolyzed Pea Protein) with a weakly performing peptone supports growth of the weakly performing peptone to the level of performance of the HPP alone. The study has shown excellent growth performance results that compare favorably with soy peptones, pea peptones and yeast extracts. In addition, peptones have been shown to improve fermentations versus yeast extract "only" growth media.
Nov. 14, 2016 Availability
Nov. 14, 2016 is an update driven by customer feedback and is part of Nu-Tek Bioscience's commitment to deliver the latest industry updates. Nov. 14, 2016 is available for immediately download at www.nu-tekbioscience.com
Founded in 2008, Nu-Tek Bioscience LLC is the worldwide manufacture and developer of specialty Peptones that have been designed to enhance Cell growth. The company offers a wide range of Peptones and Yeast Extracts designed to promote increased cell growth.
For more information, press only:
Cyndi Mueller
952-936-3604
cmueller@nu-tekbioscience.com
For more information on Nov. 14, 2016:
www.nu-tekbioscience.com