Allergen free Peptones for the use in probiotic cultures
Minnetonka, MN, 2016-May-10 — /EPR BIOTECH NEWS/ — Nu-Tek's Pea Peptone is an excellent alternative to Dairy and Soy Peptones for the production of probiotic cultures. Consumers with known food allergies rely on ingredient labeling for guidance. An Allergen Control Plan is a critical component of a food ingredient manufacturer's safety initiatives. It not only protects the health and confidence of the consumer, but also the reputation and financial success of the company.
An advantage of allergen management strategies include ingredient selection that eliminates allergens without negatively affecting the performance of the product. Formulating growth media using Nu-Tek Pea Peptone provides such an advantage. Nu-Tek Pea Peptone HPP-A is an excellent source of natural nitrogen and necessary growth factors needed for optimum probiotic culture fermentations.
Our Kosher Pea Peptones are obtained through enzymatic hydrolysis of Animal free and Non-GM pea protein. Pea protein hydrolysates do not require special allergen labeling. Independent university trials have shown excellent growth performance results that compare favorably with soy peptones. In addition, peptones have been shown to improve fermentations versus yeast extract "only" growth media. Today at Nu-Tek Bioscience announced immediate availability of Pea Peptones, enabling developers of probiotics to either enhance their current culture growth rate.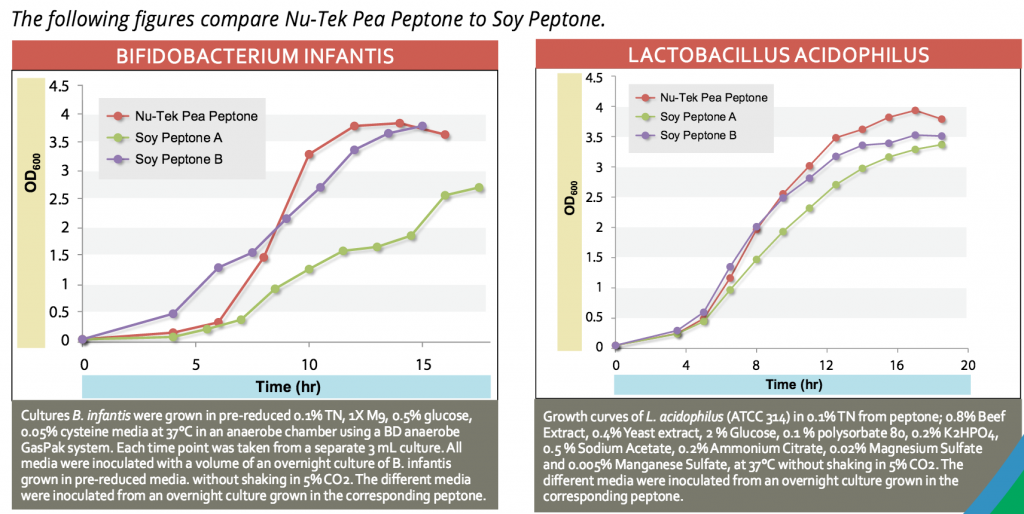 Pea Peptones Availability
Pea Peptones is an update driven by customer feedback and is part of Nu-Tek Bioscience' continuing development of new technologies.
Founded in 2008, Nu-Tek Bioscience LLC is the worldwide manufacture and developer of specialty Peptones that have been designed to enhance Cell growth. The company offers a wide range of Peptones and Yeast Extracts.
For more information, press only:
Cyndi Mueller
952-936-3604
cmueller@nu-tekbioscience.com
For more information on Pea Peptones:
www.nu-tekbioscience.com