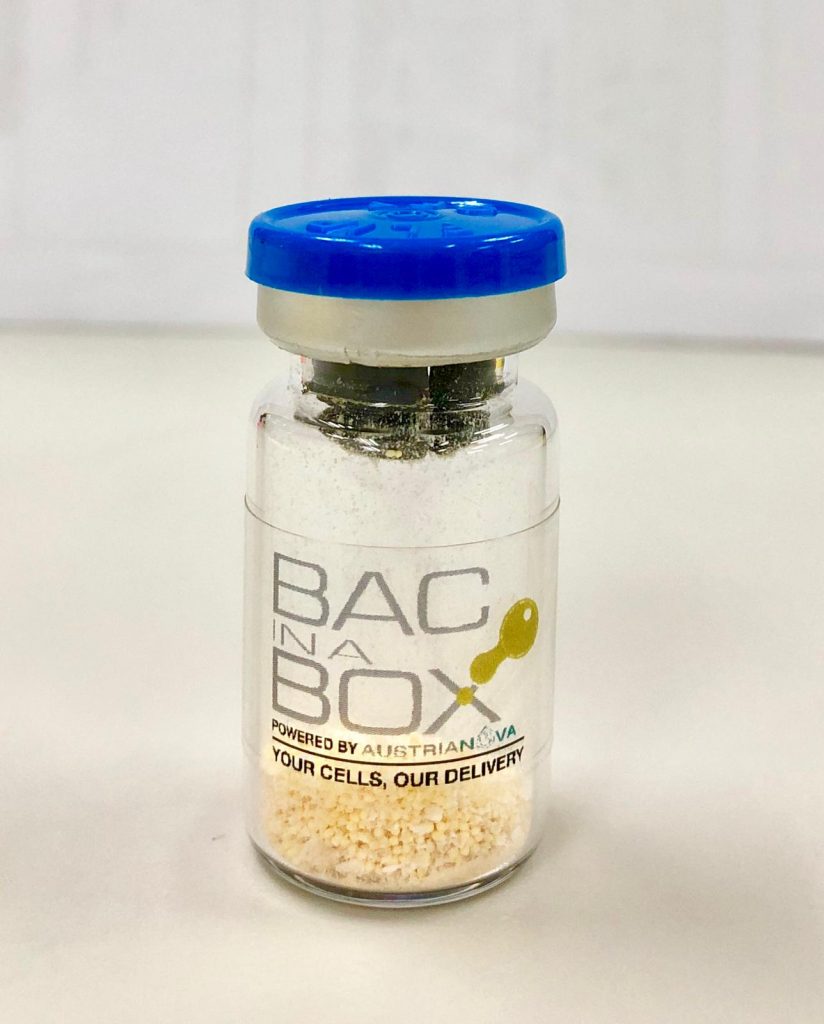 SINGAPORE, 2020-Nov-30 — /EPR BIOTECH NEWS/ — Austrianova announced today that a key publication on the ability of its patented technology, Bac-in-a-Box®, to completely protect probiotics from acidic conditions found in the stomach has been published in the well respected journal "Microbial Cell Factories"
https://rdcu.be/cbn0O.
Stomach acid is nature's way of ensuring that any microbes in food are killed before they reach the intestines. In the same way, stomach acid is also a formidable barrier to the delivery of beneficial bacteria and yeast such as probiotics to the gut, necessitating the current million times "overdosing" of such bacteria. Even then, only a tiny fraction of probiotics survive transit through the stomach. The currently available protections and coatings are only partially effective and still result in the loss of millions of bacteria and the search is still on for novel protective agents and technologies to improve on this.
The stringently reviewed data presented in Austrianova's Microbial Cell Factories paper show that Bac-in-a-Box® protects living micro-organisms (including probiotics) from stomach acid and bile, enabling them to reach the intestine in a viable state, thereby resulting in a greater beneficial effect. It also allows the use of ten thousand times lower doses, contributing to cost effectivity. Thus, Bac-in-a-Box® is ideal for enhanced and effective delivery of probiotics as well as of oral living vaccines, and it can even be used for microbial fecal transplantation (FMT or bacteriotherapy) where it provides a more patient friendly and acceptable means of delivering stool microbiota.
Brian Salmons, CEO of Austrianova, said "We are pleased that our publication on acid protection of encapsulated microbes has been published in Microbial Cell Factories, an open access, peer-reviewed journal, published by Springer Nature, that is the world leading, primary research journal fully focusing on Applied Microbiology."
Elaborating on the significance of the paper, Prof. Walter H. Gunzburg said "The gut microbiota in humans and animals plays a key role in health by aiding digestion as well as regulating the immune system and protecting against disease causing pathogens. In recent years, changes or imbalances in the gut microbiota (dysbiosis) have been linked to many diseases as disparate as irritable bowel syndrome, dementia and diabetes, and evidence is
growing that restoring the balance of the microbiota by delivery of probiotic microorganisms can improve health. Orally delivered micro-organisms must survive transit through lethal, highly acid conditions in the stomach and current methods to protect probiotic microorganisms are still not effective enough. This paper reports that Austrianova's proprietary encapsulation technology, Bac-in-a-Box®, protects members of the microbiota from stomach acid and bile. A number of probiotic strains were shown to survive low pH in vitro for at least 4 hours without appreciable loss in viability as compared to their respective non-encapsulated counterparts. Moreover, animal studies reveals that once the capsules arrive in the intestine (the site where they are needed to have beneficial effects), the probiotics are released and colonize the intestinal tract. Thus, Bac-in-a-Box® protects bacteria and yeasts from viability losses due to stomach acid, allowing the use of lower oral doses of probiotics and microbiota, whilst ensuring good intestinal delivery and release."
About Austrianova
Austrianova, part of the SG Austria Group, is a biotech company with a global footprint and headquarters in Singapore. Austrianova utilizes a novel and proprietary technology for the encapsulation of living mammalian (Cell-in-a-Box®) and bacterial (Bac-in-a-Box®) cells. Cell-in-a-Box® protects the encapsulated cells from rejection by the immune system, allows cells to be easily transported, stored and implanted at specific sites in patients. The technology, which has been proven safe and efficacious in clinical trials carried out in Europe, allows companies to develop any kind of cells as a one-for-all living pharmaceutical. Bac-in-a-Box® is a similar protective device adapted for encapsulation of probiotic bacteria where it has human food and animal feed applications due to its ability to extend storage under lyophilized conditions and to protect encapsulated bacteria against destruction by stomach acid. Austrianova now also offers GMP4Cells that includes competitively priced Master Cell Bank and Working Cell Bank production as well as "Fill and Finish" services for cell therapy products (such as stem cell therapies, biologics produced from cells e.g. vaccines, antibodies, recombinant proteins etc).
Logo: